Click here for COVID-19 (coronavirus) advice for people living with psoriasis and psoriatic arthritis.
22 November 2021
Celebrating 10 Years of BSTOP
Sunday 21st November 2021 marked 10 years since the first person with psoriasis was recruited to the Biomarkers and Stratification To Optimise outcomes in Psoriasis (BSTOP) study. A decade on, BSTOP is entering a new phase and needs your help.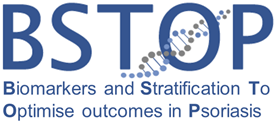 When first launched, the aim of BSTOP was to identify markers (so-called Biomarkers) that will enable doctors to give the right medicine to the right patient at the right time. A second, and equally important aim was to create a resource of samples and data available to the research community to study any aspect of psoriasis with the overall aim of improving the lives of people with psoriasis. The study was established in 2011 by Chief Investigator Professor Catherine Smith of St John's Institute of Dermatology at Guy's and St Thomas' NHS Foundation Trust in collaboration with a UK-wide study team and BADBIR.
By analysing markers, found in the blood or skin, researchers aim to be able to identify the treatments that are most likely to work (and be the safest or least likely to cause side effects) based on the biological blueprint of each person.
Since the first person was enrolled into the study a decade ago the team, along with many researchers throughout the UK and Europe, have made major steps forward in making personalised medicine a reality. Discoveries extend from those that are subject to ongoing research such as genetic and molecular biomarkers of response and toxicity, through to drug level biomarkers, now introduced into clinical care to ensure everyone has sufficient drug available in their body to give them the best chance of response. The large scale study involves over 60 dermatology centres with more than 7,000 participants and over 29,000 blood and other samples that have been collected.
Backed by £1 million in funding from the Psoriasis Association the BSTOP team are now embarking on an exciting new phase to expand the BSTOP dataset over the next five years and address the questions that matter most to people with psoriasis.
Current enrolment into BSTOP is through participating dermatology departments, with the focus to date on severe psoriasis requiring systemic or biologic treatments. The next phase will expand this to include different types of psoriasis and severities, as well as real-time, self-reported information on environment, lifestyle, severity (including photo capture) and impact.
Whilst recruitment through dermatology centres will continue, 2022 will see the launch of a new bespoke, secure, online platform which will allow people with psoriasis to enrol themselves into the study directly and become 'psoriasis citizen scientists'. Participants will also be asked if they would be willing to link their health record with their study data to allow researchers to better understand triggers, and to provide blood samples which can be done at home. This approach will significantly increase the scope, scale and quality of the BSTOP dataset.
If you choose to take part, your information will be used by researchers to help address some of the Top 10 Psoriasis Research Priorities as identified by the James Lind Alliance Psoriasis Priority Setting Partnership. This will include how lifestyle factors influence psoriasis severity and remission and the underpinning molecular mechanisms, so leading to new strategies for effective treatment.
If you'd like to register your interest to participate in this exciting next phase of BSTOP please send an email to psoprotect@kcl.ac.uk.