Click here for COVID-19 (coronavirus) advice for people living with psoriasis and psoriatic arthritis.
14 April 2022
Baroness Jill Knight 1923 - 2022
Obituary for Psoriasis Association Life Vice-President, Baroness Knight of Collingtree.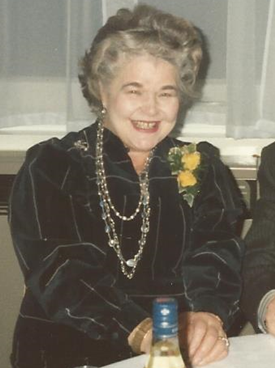 The Psoriasis Association was deeply saddened to learn of the death of a great friend and Honorary Life Vice-President, Baroness Jill Knight, earlier this month.
Baroness Knight had actively supported the work of the Psoriasis Association from the early 1970s, in particular the Birmingham Support Group, in her role as Conservative MP for Birmingham Edgbaston. She attended Psoriasis Association dinners at the Grand Hotel, Birmingham, together with Dr George Senter, the then Consultant Dermatologist to the West Midlands hospitals group, and Dr Dick (Richard) Coles, Consultant Dermatologist at Northampton General Hospital and founder of the Psoriasis Association. Baroness Knight also attended many Psoriasis Association AGMs and Conferences, taking a very keen interest in our work over the years.
A member of the Conservative Party, she spent over 50 years in politics, serving as Member of Parliament for Birmingham Edgbaston for 31 years from 1966 to 1997, when she stood down from the House of Commons. She was created a life peer as "Baroness Knight of Collingtree in the County of Northamptonshire" in 1997 and retired from the House of Lords on 24th March 2016. When she retired, she was the longest-serving female parliamentarian. She was appointed MBE in 1964, and DBE in 1985.
Baroness Knight passed away peacefully, aged 98, on 6th April 2022. She will be greatly missed by all at the Psoriasis Association.