Click here for COVID-19 (coronavirus) advice for people living with psoriasis and psoriatic arthritis.
28 February 2018
Yiganerjing - 'Herbal' Cream Found to Contain an Undeclared Steroid
People who may have purchased Yiganerjing Cream are urged to discontinue use immediately.
The product, Yiganerjing Cream, which has been marketed in the UK as an unlicensed "natural" Chinese herbal medicine for the treatment of a range of skin conditions, including psoriasis, has been found to contain an undisclosed steroid and two antifungal ingredients in tests conducted by the Medicines and Healthcare products Regulatory Agency (MHRA).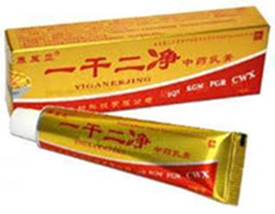 Analysis of the product has found the presence of the steroid, clobetasol propionate (0.025%). This steroid is the active ingredient used in a range of prescription-only creams for conditions such as psoriasis and eczema. Tests also identified the presence of the antifungal compounds ketoconazole (0.7%) and miconazole nitrate (0.65%). These compounds are indicated for the treatment of fungal infections of the skin and nails, and are present in a number of well-known licensed products.
In light of these findings, the MHRA has stepped up its work to remove Yiganerjing from sale on websites and in online market places, and is issuing a notice to inform sellers that they must stop selling the cream immediately. The MHRA advises anyone who may have been using this cream to discontinue use immediately.
The MHRA is also aware of the sale, via a herbal clinic, of a product called Penny Orange Cream which has been found to contain the steroid clobetasol propionate (0.009%). This product is no longer available, however anybody who has already purchased and been using this product is advised to discontinue use immediately.
If anybody who has used either of these creams should have concerns, they are advised to discuss the issue with their doctor or clinician.
These findings are a reminder to be cautious if you are ever considering purchasing any products for your psoriasis online, and to remember that "natural" doesn't necessarily mean safe. The MHRA advises that, if you are unsure about the safety of a product claiming to be "natural" or "herbal", you should check for a Marketing Authorisation (MA) or Product License (PL) number or Traditional Herbal Registration (THR) number/the THR logo. This means the product has been assessed by the MHRA for safety and has been manufactured correctly.
If you are aware of Yiganerjing cream being sold, you can report it to the MHRA by emailing
Borderline_medicine@mhra.gov.uk
.