Click here for COVID-19 (coronavirus) advice for people living with psoriasis and psoriatic arthritis.
29 April 2021
Our Achievements 2020 Published
Take a look at our achievements from the past 12 months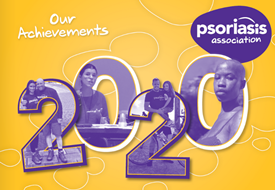 Each year the Psoriasis Association helps thousands of people whose lives have been affected by psoriasis and psoriatic arthritis through our websites, helplines, and social media channels, as well as by raising awareness amongst the general public, healthcare professionals and Members of Parliament. Whilst some of our original plans for 2020 had to be altered to meet the changing regulations of the pandemic, we are pleased to have been able to be a constant source of support for people affected by psoriasis and psoriatic arthritis during an uncertain year.
Click here to view a copy of Our Achievements 2020.
Our annual report demonstrates how the work of the Psoriasis Association has adapted, continued and progressed all three of our key aims:
To provide information, advice and support to those whose lives are affected by psoriasis;
To raise awareness of psoriasis;
To promote and fund research into the causes, nature and care of psoriasis, and to publish and disseminate the results of that research.
Highlights include;
Developing our COVID-19 information hub for people with psoriasis and psoriatic arthritis and working closely with healthcare professionals to create new resources and up-to-date information at each stage of the pandemic.
Furthering our commitment to research by awarding three new PhD studentships, two small grants and supporting the establishment, promotion and recruitment of the PsoProtect and PsoProtectMe registries.
Our first fully-digital Psoriasis Awareness Week which involved the development of a number of new digital resources including videos with leading psoriasis experts and researchers.
Our first successful virtual webinar event hosted in conjunction with the St John's Derm Academy.
The publication of our Ten-Year Impact Report demonstrating the difference we have made to the lives of people with psoriasis and psoriatic arthritis over the past decade.
Thank you to everyone who supported us in 2020!